Welcom to Purchase or Agent NBS

Beijing China-agri BRAINS Science &Technology Co., Ltd. is one of the largest agricultural software developers and providers in China. We have more than 30 agricultural software products with independent intellectual property rights include feedstuff prescription software, fertilizer prescription software, seed business management software, plant breeding software, statistics software and diagnosis system for plant protection, etc. Our customers cover from framer, agricultural production company and agricultural materials company to agricultural scientific research institute and government in agriculture field. In the past 4 years, we have sold more than 1000 feedstuff prescription softwares. The seed management software is the first choice of many seed management companies. "BRAINS" and "Agricultural Doctor" become the famous brands in China agricultural software market.
We are the first professional company in agricultural software market development sine founded in 2001. With the development of recent years, we have accumulated many experiences in developing and marketing,and have a clear insight in this field. We have good marketing and sales team and cooperators. We also sell products from our cooperators and keep a good relation with them.
China agricultural software market is at the starting stage, and has a great potential and a bright future. We hope to cooperate with other companies all over the world, and the cooperation ways include software localization development and extension, and the sole agency of your company's Chinese version software in China.
Now, we are looking for the cooperation companies which are interested in our products. We will provide English version products and other language version products according to your needs. With our powerful technical support, the only thing you need to do is considering how to sell the products. If you are interested in our products, please contact us immediately.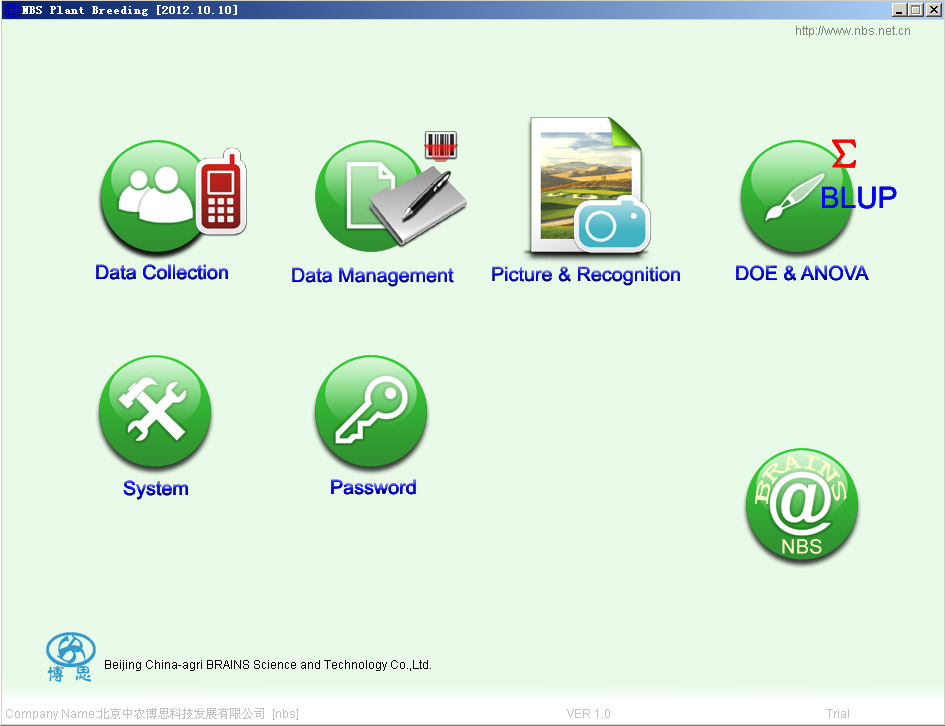 NBS Plant Breeding
(NBS Data Management and Analysis System for Plant Breeding)

Foreword
NBS Data Management and Analysis System for Plant Breeding is special for plant breeding experts. The two main functions of the system are data storage and data analysis.
Data storage:Dynamic data structure is used in the system, you can define breeding characters to meet your own need. So the software can be used by experts either in crop breeding or vegetable breeding. The picture management function of the software is also very useful.
Data analysis:Quantitative genetics theory and mothods can be found in our software,for example:Griffing Diallel Analysis, Combining Abilitie, Additive and Dominance Models and ANOVA; Linear and Curvilinear Regression, Association Coefficient and Degree of Association.
Our software will be your right hand in breebing.

System Features
A. Using SQL database, powerful data storage management functions to ensure data maintenance and security.
B. Collection TXT and photographs data Integrated management, see the TXT data at the same time to see the photographs
C. Image recognition, automatic seed count, batch recognition.
D. Image-based calculation of leaf angle.
E. Statistical analysis commonly used in Breeding, inter-ratio method, random block, multi-year, multi-point, and other analytical methods.
F. Ideal variety evaluation, based on scientific data analysis method to eliminate breeding material.
G. Automatically maintain pedigree.
H. Identification of hybrid combinations.
I. Through the Internet network to support real-time remote data summary, data sharing.
J. Module authorization, Menu authorization ,Grade authorization, to ensure data security.
K. supports mobile data collection devices and bar code scanning equipment.
Major Functions of the NBS:
Personnel and authorized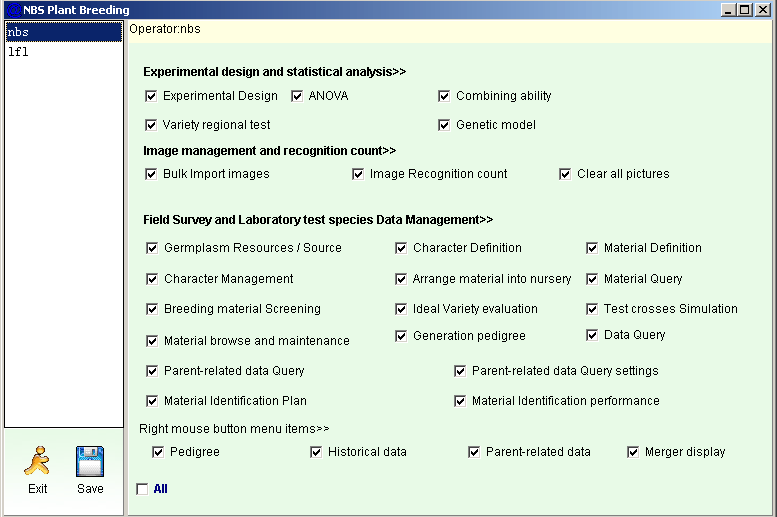 view pictures at the same time
View recorded data, you can also view photos collected over the same time. "picture?column will be yellow marked cell . Click the yellow cells, show the picture window.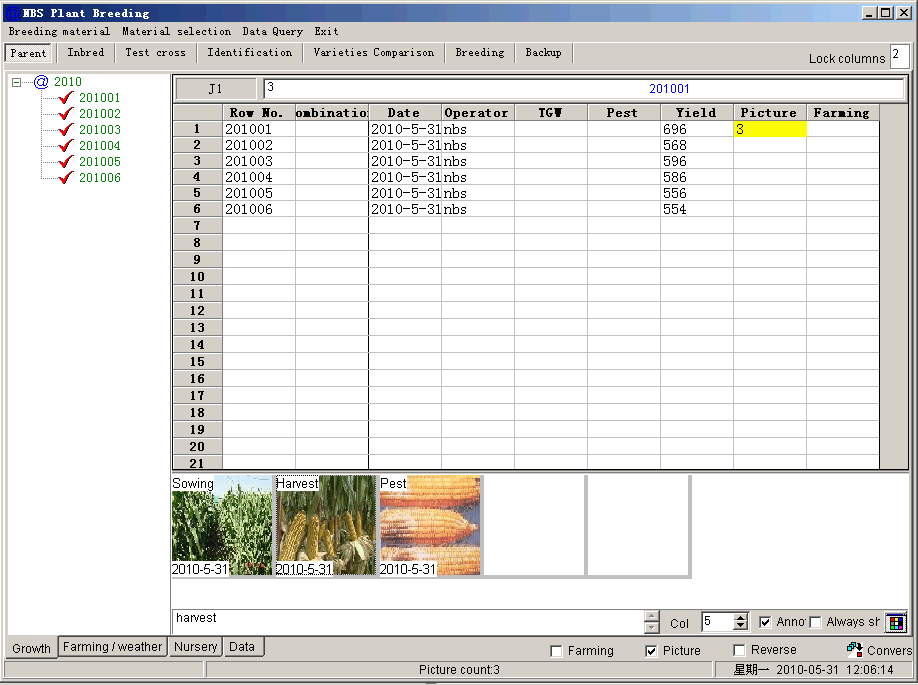 Experimental Design and Statistical Analysis Module
Experimental design including a breeding experiment used a visual dynamic design, contrast method, inter-ratio method, randomized block, Latin square, split plot, Strip blocks etc.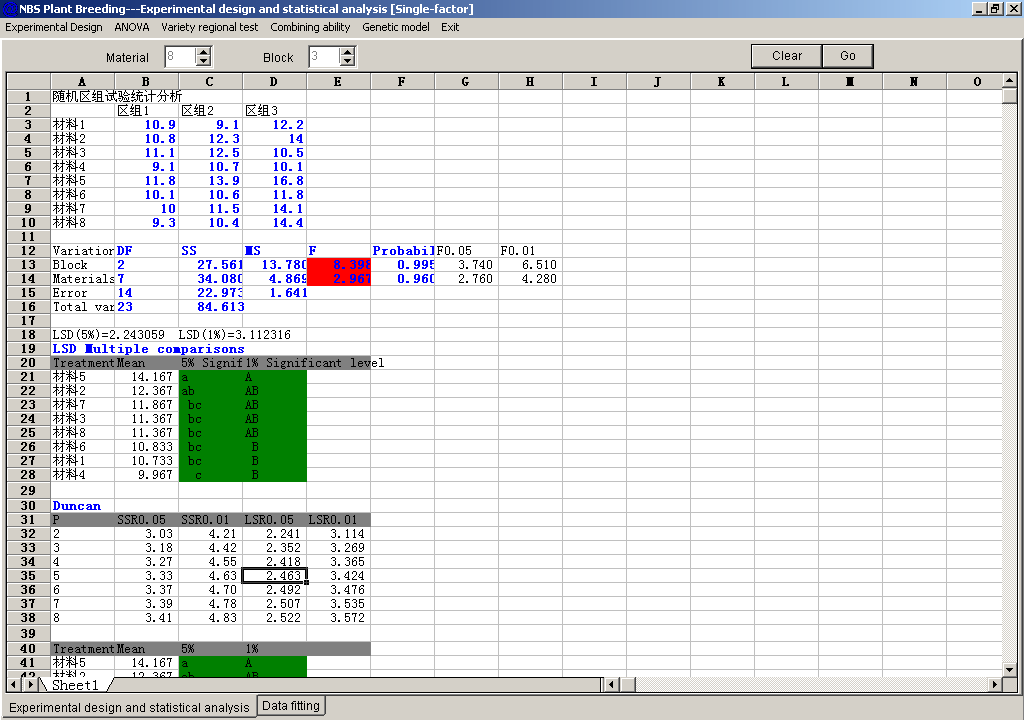 Data fitting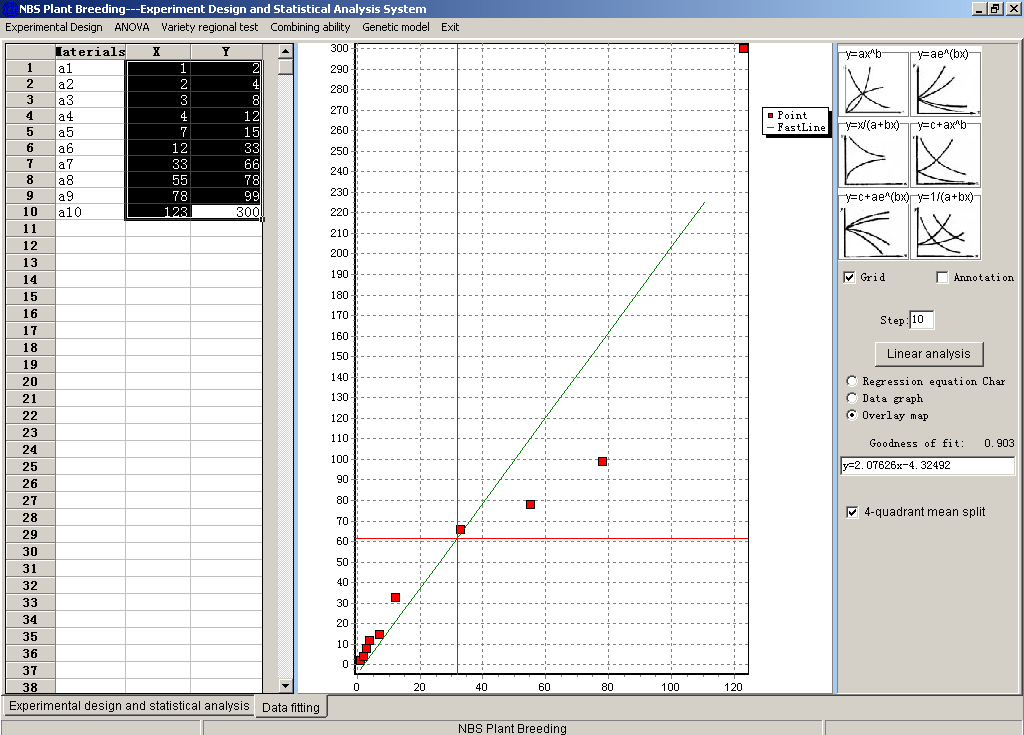 Image management and recognition count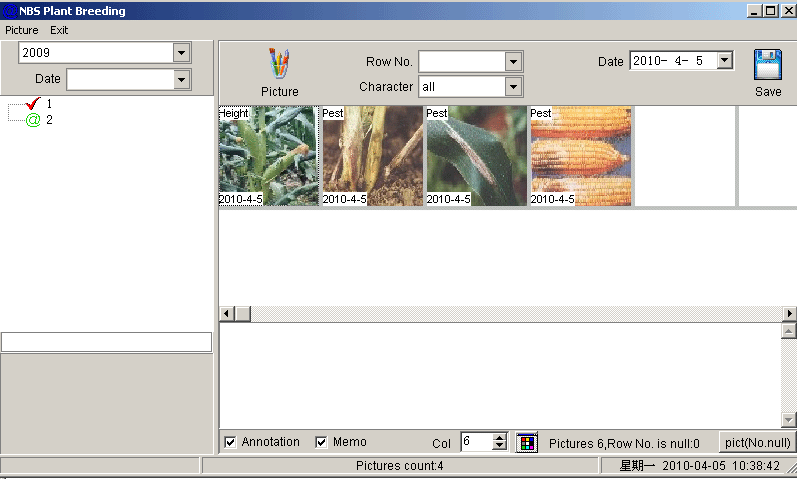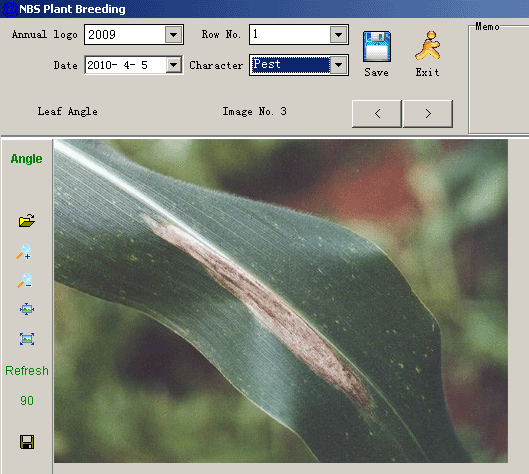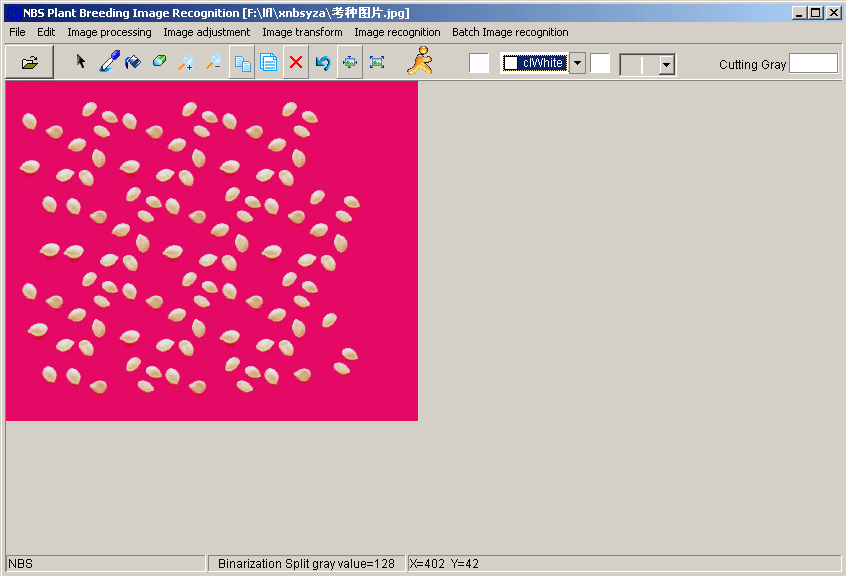 Binarization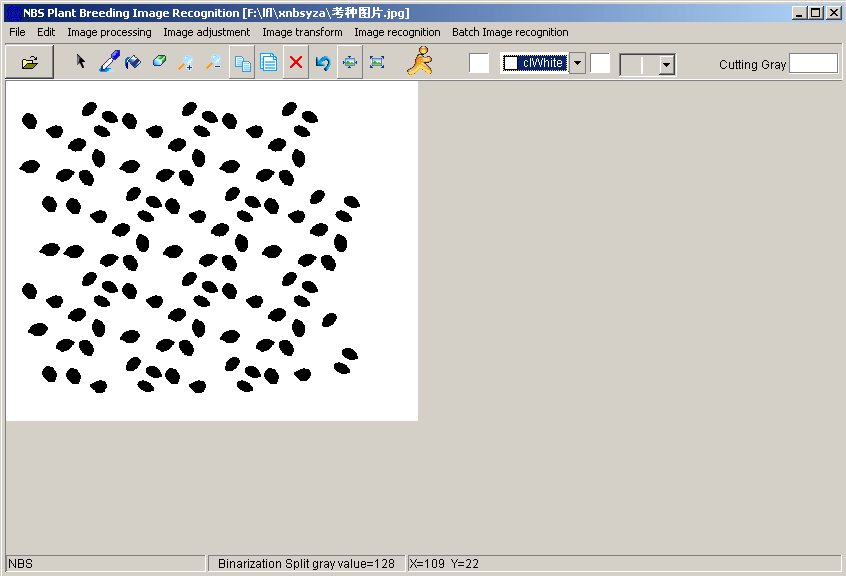 Grain count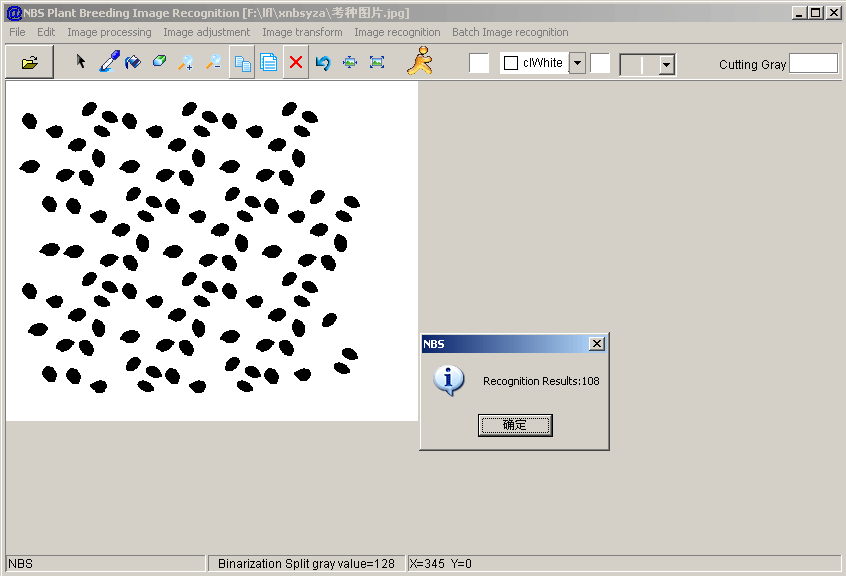 Feature Extraction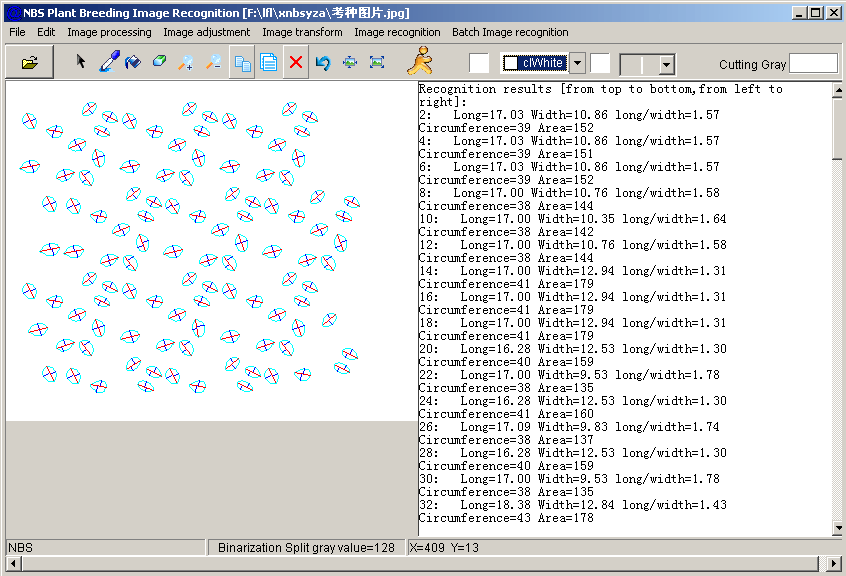 Calculation of rice chalkiness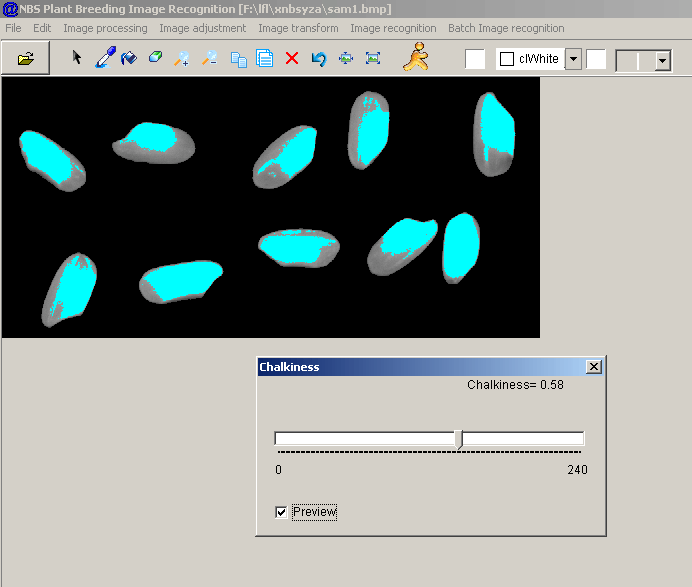 Leaf Angle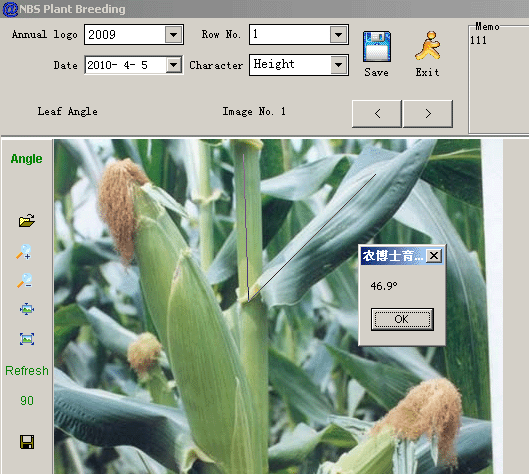 Character Definition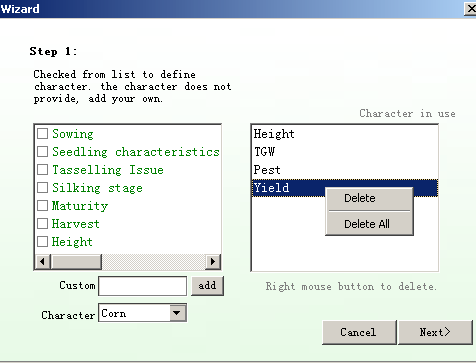 view farming and weather at the same time
Parent-related data
Methods of operation: right-click in the list of materials.
View the current selected material's parents involved in hybridization. This feature is only support last generation, Material Identification performance support more generation .
Breeding material Screening
Sometimes you want to filter from the materials found some indicators of the material. NBS will automatically determine the type of characters is number or txt, the user needs to do is tells the computer screen characters, selection characters value .
NBS Mobile breeding data collection system
NBS Mobile breeding data collection system base on windows Mobile.
Mobile breeding data collection module and NBS Mobile breeding data collection system is joint use.
Support Collected data on the mobile device Import into the breeding database directly.
No mobile device support, the module does not run.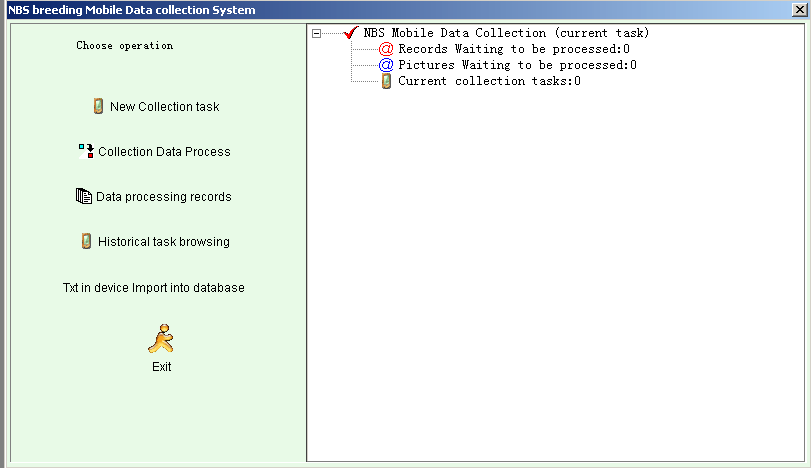 Welcom to Purchase Our Products

Edition
Encryption

Price

Differences

Personal

Edition

$
No support: Grade Authorization, Test crosses Simulation, Image recognition count, NBS Mobile breeding data collection system.
Characters Limit 10.Only support use in localhost.
No time limit,Free software upgrades within one year

Standard Edition

$

No support: NBS Mobile breeding data collection system.
Only support use in localhost.

No time limit,Free software upgrades within one year

Enterprise Edition

$

No time limit,Free software upgrades within one year
PTI Instruments, Co.
17843 La Posada Cir
College Station, TX 77845
USA
e-mail: info@ptiinstruments.com
Tel: (979) 446-0693
Beijing China-agri BRAINS Science&Technology Co.,Ltd. Copyright.
Beijing China